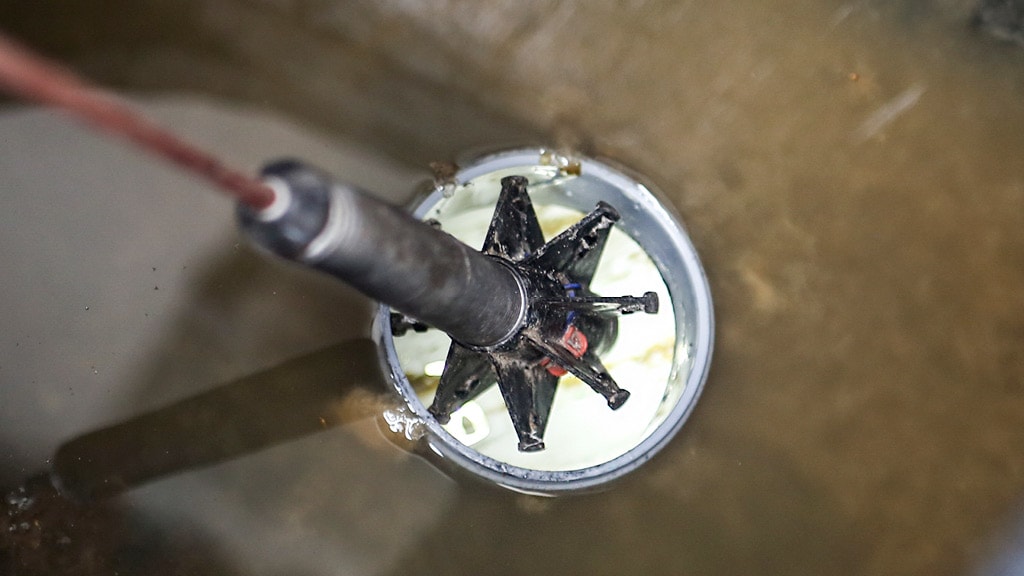 Sewer lines play a vital role in the comfort and health of your Sacramento, CA home or business. Every time you use a sink, shower, or flush the toilet, your sewer lines perform a delicate balancing act to continue flowing.
As property owners, we assume that whatever goes down the drain is gone—as long as it doesn't come back up into the drain, that is. But there is much more to the story.
Your Sacramento sewer line might be on the brink of failure without you suspecting it until a dreaded sewage backup occurs.
Some of the highest costs California property owners face may be plumbing and sewer line repair or sewer line replacement. The damage that can come with flooding from broken or backed-up sewer lines can also be costly.
The good news is that you can have peace of mind by getting a sewer line inspection done by US Trenchless. Our professionals work hard to obtain and uphold the highest level of industry licensing in California, so we can provide the top-quality plumbing and sewer line services that our customers need.
We can evaluate your Sacramento plumbing equipment and sewer line to ensure everything operates smoothly. Call us to schedule your sewer line inspection today!
Exceptional Sewer Line Inspection Services in Sacramento
When you select US Trenchless for your sewer line inspection needs, you can be sure that you are getting the very best. Our highly trained service technicians use state-of-the-art cameras and recording equipment to provide a real-time visual assessment that accurately identifies the sewer line condition and pinpoints any problem areas.
If problems exist, we will provide a professional repair estimate, giving you the most accurate information possible and helping you make informed decisions.
If you need further work done, we can handle that too, and all without disrupting your life or landscaping. We specialize in pipe bursting and cured-in-place pipe (CIPP) lining.
Our US Trenchless Guarantee
We guarantee our service meets or exceeds the American Society for Testing and Materials (ASTM) and the National Association of Sewer Service Companies (NASSCO) standards for pipeline inspection. You can trust our friendly, knowledgeable, and professional technicians to make the inspection process trouble-free.
You can count on our US Trenchless professionals to perform each sewer line inspection by the book. We believe in getting the job done right!
Benefits of a Video Sewer Line Inspection
Having US Trenchless perform a video inspection of your pipelines can address many issues and concerns, including:
Finding Inflow and Infiltration (I & I)
Finding Cracked, Broken or Collapsed Piping
Finding Leaking Joints
Finding Blockage, Corrosion, or Root Infiltration
Finding Manufacturer Defects
Finding Offset, Off-Grade, or Bellied Piping
Checking the Function of Newly Installed Pipelines
Determining Points of Connection
Creating a Digital Map of Your Piping Systems
Our Sewer Line Inspection Equipment
Our high-resolution cameras are the best in the industry. They enter the pipeline attached to the end of a flexible cable.
Features:
Able to Inspect Pipelines Ranging From 1 to 60 Inches in Diameter
Able to Locate Trouble Areas at a Depth of 20 or More Feet From Invert to Grade in Roadways
Hardened and Waterproof
Equipped With Powerful, High Wattage Lights
No-Fuss, No-Muss Process
When US Trenchless comes out to perform a sewer line video inspection, the process is simple, non-destructive, and highly effective in finding any areas of concern.
First, our certified technician places the camera into the pipeline. Then, as the camera travels through the piping, it records its voyage.
The images recorded by the camera are immediately visible to the service technician, who processes the findings and provides a comprehensive diagnosis. The process takes very little time. The property remains clean and free of damage, and there is no inconvenience.
Are you selling or purchasing a home for a client? Help your clients make the best investment decisions by arming them with information about the location and condition of the pipelines for each property they are considering selling or buying. At your request, we can archive inspection footage for future reference.
Sewer Line Requirements
Per section 718.1 of the Uniform Plumbing Code (UPC), sewer lines are required to be installed with a minimum grade (or slope) of not less than ¼ inch per foot. That doesn't sound like much because it isn't.
The idea behind this requirement is that water breaks on a plane with a minimal grade. It's best if the water doesn't flow too fast—otherwise, it will "run" away from the solids. It means your sewer line is barely draining when it's brand new and working perfectly. Imagine what years of soil settling, pipe deterioration, and root intrusion can do.
There may be Inflow and Infiltration, allowing groundwater and stormwater to enter your pipes and tilt the delicate balance in your pipes even further out of whack. What's frustrating is that you can't see the effects of these problems until it's too late. Let US Trenchless help.
History of Sewer Line Inspections
In the early 1980s, the camera that could operate inside a sewer pipe was invented. Finally, it was possible to see the problems and how bad they were in real time.
Today, technology has improved and is readily available. However, most people still aren't taking advantage of the opportunity to identify and solve their sewer and pipeline problems.
Most sewer line inspections are done as part of an emergency repair job. By this time, the sewer has stopped working entirely, creating problems far beyond what it would have taken to fix the problem if discovered earlier.
Avoid the hassle and mess. A camera inspection of your pipeline performed by our US Trenchless professionals can save you thousands of dollars. Get a sewer line inspection and put your mind and wallet at ease.
Schedule Your Sewer Line Inspection Today
Do you need to schedule a sewer line inspection for your Sacramento, CA, home or business? US Trenchless is here to help. We are your plumbing and sewer line inspection experts. Call today to schedule your inspection at 877-916-7473 or request service online.
Abraham and everyone at US Trenchless did a great job for me and my family during our first home purchase. Abraham performed a very thorough inspection of the sewer lines in the home, identified some issues, and promptly got us a quote.
He then coordinated a team to get out and do the work in a very timely and professional manner. The job was done well and everyone was great.
I couldn't have had a better experience.
Thanks
- Micheal M.
"US Trenchless is wonderful. I wanted my sewer line inspected. I was able to book an appointment easily and quickly. Francisco came and inspected the line, then cleaned it out. Francisco worked very diligently to make sure the line was clean. Moreover, Francisco was very affable and pleasant to be around. I can't recommend this company enough. Thank you!"
- Dillon C.
"US Trenchless did a pre-purchase inspection of a 50+ year old townhouse we were purchasing. Their inspection revealed the original line from our property was heavily corroded and needed to be cleaned out. Although I was not happy about the additional expense related to purchasing, we went ahead and had the line cleaned.
Best thing we could have done ! Within a month, the sewer line was clogged and backing up. I called US Trenchless and they were out the next day and ran the camera down the line. It was clear. As it turned out, there was a block in the main line that is controlled and maintained by the HOA. Had I not had US Trenchless clean out our line,I would have ended up calling plumbers and would have paid them when the real problem was out of my control.
Thank you Abraham and the crew . You responded quickly when I incurred an issue after the cleaning was done and your re-inspection saved me additional expense and headache."
- Jim M.