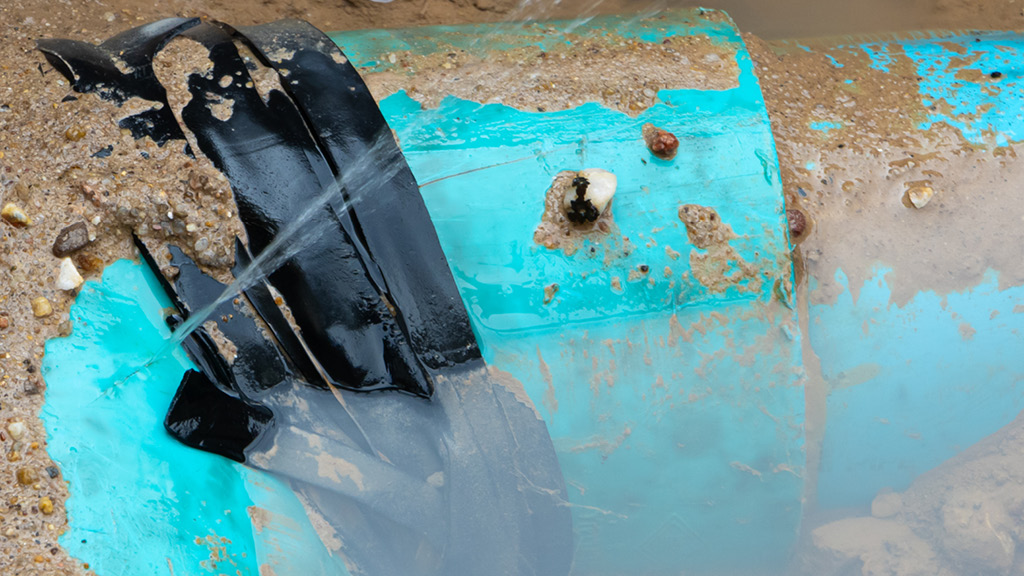 US Trenchless offers water leak location services that can locate leaks with minimal impact on your Sacramento, CA property.
It's not always easy to locate the source of a leak, especially when it's underground—but that's where professional water leak detection helps.
US Trenchless specializes in drain and sewer plumbing services in Sacramento, Roseville, and the surrounding areas. Whether you need a sewer line inspection, sewer line installation, sewer line replacement, or sewer line repair, our trusted team is ready to assist!
What Are the Benefits of Trenchless Leak Detection?
The main advantage of water leak location technology is leak prevention.
Consider these statistics from the U.S. Environmental Protection Agency (EPA): The average household's leaks waste more than 10,000 gallons of water annually. That is the same amount of water needed to wash 270 loads of laundry. Ten percent of homes have leaks that waste approximately 90 gallons of water daily.
Leaks don't just waste water—they also waste your money. Imagine how high a leak could cause your water bill to spike!
An efficient plumbing system saves you money. That's why US Trenchless is here to help! Let us create and maintain a healthy, safe home for you and your loved ones.
Here's a brief overview of the many benefits of trenchless water leak detection:
Pinpoints the precise source of the leak so our professionals can inspect, diagnose, and address any issues
Offers a less invasive alternative to digging up and damaging areas of your home or property to find the source of the leak
Allows our professionals to address your plumbing needs at the source as quickly and efficiently as possible
How Does Leak Detection Work?
Leaks may be difficult to find due to being underground, but a leak detector will help our US Trenchless professionals locate the source. We use cutting-edge tools and equipment that minimize any impact on your property.
Our leak detection equipment can pinpoint the precise location of the leak, even if it's through hard surfaces, like concrete. The next step is to assess the severity of the problem and address the leak at the source.
When it comes to resolving your Sacramento sewer and plumbing issues, US Trenchless is here with the best and most innovative technology. Call us today to detect and address any leaks at your property.
Make Leak Detection a Priority
Ready to improve the plumbing system in your Sacramento, CA, home? Our US Trenchless experts are eager to help! Call us at 877-916-7473 or request service online.
"Excellent customer service! We would absolutely use again in the future for any other issues that may arise. Thanks again!"
- Jared B.
"U.S. Trenchless installed a sewer cleanout in my front yard and did a fantastic job. An employee named Abraham arrived on time and completed the job in under two hours. He was extremely respectful of my property. After digging the necessary hole for the cleanout, he went to great lengths to repair the grass/landscaping that was impacted. Once he was finished, he explained the work and offered to answer any of my questions. It was a fantastic experience, and I will be using US Trenchless in the future."
- John P.
Abraham and everyone at US Trenchless did a great job for me and my family during our first home purchase. Abraham performed a very thorough inspection of the sewer lines in the home, identified some issues, and promptly got us a quote.
He then coordinated a team to get out and do the work in a very timely and professional manner. The job was done well and everyone was great.
I couldn't have had a better experience.
Thanks
- Micheal M.
"US Trenchless is wonderful. I wanted my sewer line inspected. I was able to book an appointment easily and quickly. Francisco came and inspected the line, then cleaned it out. Francisco worked very diligently to make sure the line was clean. Moreover, Francisco was very affable and pleasant to be around. I can't recommend this company enough. Thank you!"
- Dillon C.
Had these guys out to inspect the sewer system on a house I was purchasing. They found an offset pipe, which I was able to get a credit out of escrow to fix. After close of escrow, they fixed it ahead of schedule and at the price they quoted during the inspection. No fuss, no drama. Abraham Diaz is the guy I worked with.
- Jordan C.
"After water started backing up into our toilet and bathtub, Abraham and the crew came to check it out that same day. They provided immediately action and a depth diagnostic. They later came back out to fix the outdoor pipes that had been damaged by the tree roots and aging. They worked efficiently and a great price. Honest reliable work. Highly recommended!"
- Gem R.
"Abraham and his team were on time, courteous, and communicative in the sewer line replacement work that they did at our recently purchased home. In times like these, where it's now all too common to have vendors and contractors not even return your call or email to inquire about services, it was refreshing to receive the service that we did from U.S. Trenchless. We'll absolutely reach out to them again when/ if their services are again required."
- Jason T.
"Carlos, Parker and Francisco were friendly, courteous and professional while running Trenchless pipe through my sewer lines.
Abraham was punctual, courteous and professional when he came out to give me a bid and for the inspection.
I highly recommend this business and will be using them again in the future."
- Joann M.
"This company was outstanding! They replaced a sewer line in my 1926 built house and everything was done well and professionally. The cost was not high or low, but appropriate for the hard work needed for this repair. Francisco and crew are valuable employees for this company. Francisco works hard and does the job right to make sure the repair will last for the customer. I highly recommend this company."
- Liz B.
"US Trenchless did a pre-purchase inspection of a 50+ year old townhouse we were purchasing. Their inspection revealed the original line from our property was heavily corroded and needed to be cleaned out. Although I was not happy about the additional expense related to purchasing, we went ahead and had the line cleaned.
Best thing we could have done ! Within a month, the sewer line was clogged and backing up. I called US Trenchless and they were out the next day and ran the camera down the line. It was clear. As it turned out, there was a block in the main line that is controlled and maintained by the HOA. Had I not had US Trenchless clean out our line,I would have ended up calling plumbers and would have paid them when the real problem was out of my control.
Thank you Abraham and the crew . You responded quickly when I incurred an issue after the cleaning was done and your re-inspection saved me additional expense and headache."
- Jim M.