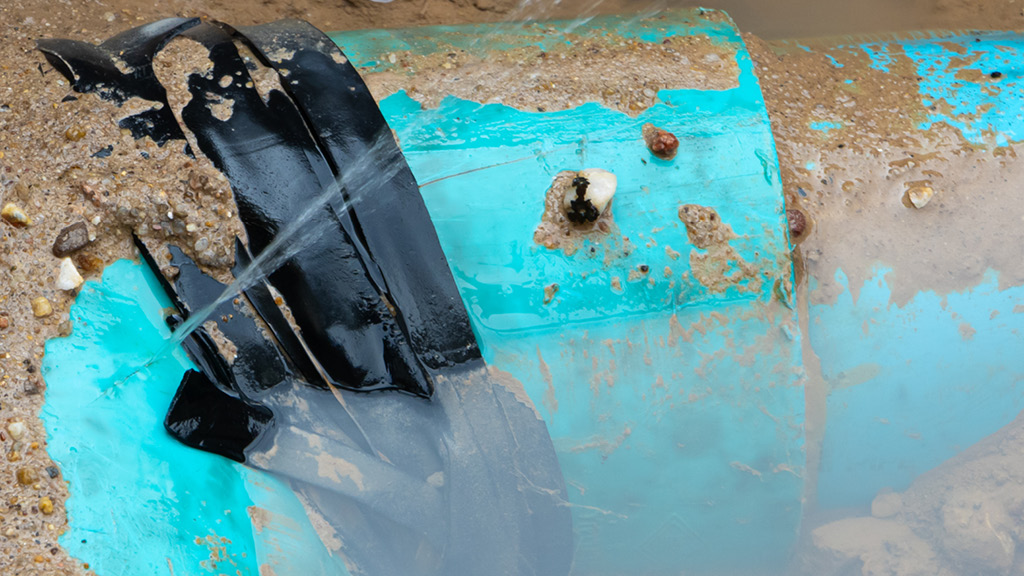 US Trenchless offers water leak location services that can locate leaks with minimal impact on your Sacramento, CA property.
It's not always easy to locate the source of a leak, especially when it's underground—but that's where professional water leak detection helps.
US Trenchless specializes in drain and sewer plumbing services in Sacramento, Roseville, and the surrounding areas. Whether you need a sewer line inspection, sewer line installation, sewer line replacement, or sewer line repair, our trusted team is ready to assist!
What Are the Benefits of Trenchless Leak Detection?
The main advantage of water leak location technology is leak prevention.
Consider these statistics from the U.S. Environmental Protection Agency (EPA): The average household's leaks waste more than 10,000 gallons of water annually. That is the same amount of water needed to wash 270 loads of laundry. Ten percent of homes have leaks that waste approximately 90 gallons of water daily.
Leaks don't just waste water—they also waste your money. Imagine how high a leak could cause your water bill to spike!
An efficient plumbing system saves you money. That's why US Trenchless is here to help! Let us create and maintain a healthy, safe home for you and your loved ones.
Here's a brief overview of the many benefits of trenchless water leak detection:
Pinpoints the precise source of the leak so our professionals can inspect, diagnose, and address any issues
Offers a less invasive alternative to digging up and damaging areas of your home or property to find the source of the leak
Allows our professionals to address your plumbing needs at the source as quickly and efficiently as possible
How Does Leak Detection Work?
Leaks may be difficult to find due to being underground, but a leak detector will help our US Trenchless professionals locate the source. We use cutting-edge tools and equipment that minimize any impact on your property.
Our leak detection equipment can pinpoint the precise location of the leak, even if it's through hard surfaces, like concrete. The next step is to assess the severity of the problem and address the leak at the source.
When it comes to resolving your Sacramento sewer and plumbing issues, US Trenchless is here with the best and most innovative technology. Call us today to detect and address any leaks at your property.
Make Leak Detection a Priority
Ready to improve the plumbing system in your Sacramento, CA, home? Our US Trenchless experts are eager to help! Call us at 877-916-7473 or request service online.
"Amazing Service!
Found water dribbling out of the ground from the middle of my lawn…Abraham was able to determine it was a water main leak. He and Carlos were out the next morning doing the repair. Both were kind & professional…explained exactly where the issues were & completed within a day…(cutting through 2 – 9 inch tree roots that wrapped around the sprinkler & water main pipes. )
Thank you for fixing this issue & saving me from some future disasters."
- Lisa C.
"Abraham and crew were very professional, thorough and they were on time & ready to go when they said they would be. They took the time to explain what they were doing and showed me the before and after video as they were working. I highly recommend Abraham and US Trenchless!"
- Todd C.
"As part of looking for a sewer clean out, Abraham used a probe and did not find one. So his men installed a sewer clean out access. They did a good job, but after weeks of rain I finally ran the sprinklers and found a hole in a 3/4 inch PVC pipe where Abraham had probed for the sewer clean out. I texted Abraham a picture of the leaking pipe. He came out the next day and repaired the pipe and nicely covered the hole. Thank you Abraham!"
- Bruce B.
"Great experience, quick and professional."
- Vic P.
"Abraham and his crew did a great job evaluating toilets clogging, installing a sewer clean out and doing a video inspection of my sewer lines. I highly recommend them!"
- Ruce B.
"Celso and his tech Wyatt arrived on time and listened to my concerns, they did a great job and provided me with helpful information for the future. Great job guys thank you so very much.
Carmela S"
- Carmela S.
"Excellent customer service! We would absolutely use again in the future for any other issues that may arise. Thanks again!"
- Jared B.
"U.S. Trenchless installed a sewer cleanout in my front yard and did a fantastic job. An employee named Abraham arrived on time and completed the job in under two hours. He was extremely respectful of my property. After digging the necessary hole for the cleanout, he went to great lengths to repair the grass/landscaping that was impacted. Once he was finished, he explained the work and offered to answer any of my questions. It was a fantastic experience, and I will be using US Trenchless in the future."
- John P.
Abraham and everyone at US Trenchless did a great job for me and my family during our first home purchase. Abraham performed a very thorough inspection of the sewer lines in the home, identified some issues, and promptly got us a quote.
He then coordinated a team to get out and do the work in a very timely and professional manner. The job was done well and everyone was great.
I couldn't have had a better experience.
Thanks
- Micheal M.
"US Trenchless is wonderful. I wanted my sewer line inspected. I was able to book an appointment easily and quickly. Francisco came and inspected the line, then cleaned it out. Francisco worked very diligently to make sure the line was clean. Moreover, Francisco was very affable and pleasant to be around. I can't recommend this company enough. Thank you!"
- Dillon C.